Mon., May 5, 2014, 8:21 a.m.
SR Wins 6 Awards In Idaho Contest
The Spokesman-Review won six awards in the Idaho Press Club's annual journalism competition, including three first places in news reporting. Winners were announced Saturday night in Boise. Reporter Betsy Z. Russell, pictured, won first place in watchdog/investigative reporting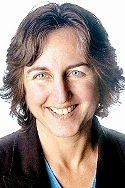 for coverage of Idaho's controversial multiyear, multimillion-dollar contract for Wi-Fi networks in high schools. Russell also took first place in political reporting for a story about the political power of the Idaho Freedom Foundation, a nonprofit charity that some believe abuses its lucrative tax-free status. Scott Maben, who covers North Idaho issues, won first place in crime/court reporting for an article on a Kootenai County judge who had posted hundreds of message board comments while at work about role-playing fantasy games. Reporter Becky Kramer won three third-place awards: for environment reporting with her coverage of divided public opinion on the reintroduction of the gray wolf to Yellowstone National Park and central Idaho; for outdoor features with a report on how elk hunters are adjusting to reintroduction of wolves in Idaho; and for light feature reporting with a story about bryozoans, freshwater colonies of microscopic animals thriving in local lakes/Spokesman-Review.
Thoughts?
---
---