Tue., May 6, 2014, 10:11 a.m.
After Years Of Silence, Monica Speaks
Monica Lewinsky writes in Vanity Fair for the first time about her affair with President Clinton: "It's time to burn the beret and bury the blue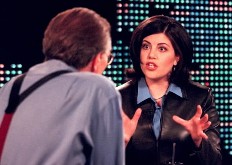 dress." She also says: "I, myself, deeply regret what happened between me and President Clinton. Let me say it again: I. Myself. Deeply. Regret. What. Happened." After 10 years of virtual silence ("So silent, in fact," she writes, "that the buzz in some circles has been that the Clintons must have paid me off; why else would I have refrained from speaking out? I can assure you that nothing could be further from the truth"), Lewinsky, 40, says it is time to stop "tiptoeing around my past—and other people's futures. I am determined to have a different ending to my story. I've decided, finally, to stick my head above the parapet so that I can take back my narrative and give a purpose to my past. (What this will cost me, I will soon find out.)"/Vanity Fair. More here. (AP file photo: Monica Lewinsky discusses weight loss with Larry King in January 2000)
Question: Do you want to hear what Monica Lewinsky has to say? Or do you prefer not to see this sordid episode in the Clinton administration dredge up?
---
---