Tue., May 6, 2014, 1:08 p.m.
Clark: Legless Vietnam Vet Hero Dies
A hero died the other day. His name was Craig C. Thomas. He was 66 years old, a Spokane lifer who was unashamed to say he loved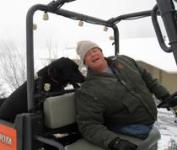 it here. I met Thomas several times over the years through a mutual friend. But while we shook hands and talked, I never really knew much about him or what had taken his legs and put him in a chair with wheels. Then he died and the mutual friend asked if I'd write something, and I said, sure, why not? That's how I learned how incredible Craig Thomas was and what happened to him in Vietnam, which wasn't called a meat grinder for nothing. Oct. 2, 1968/Doug Clark, SR. More here. (SR file photo: Craig Thomas with his dog plowing his neighbor's driveway)
Thoughts?
---
---