Tue., May 6, 2014, 8:56 a.m.
Hall: Run, It's Wolves From Canada
It has been brought to my attention that some Canadians aren't nearly as kind, gentle or civilized as I had thought. Oh, the humans of that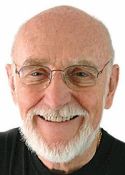 neighborly nation are every bit as affable as we've always believed. But I'm here to warn you that giant Canadian wolves are a far different matter. I was reading a letter to the editor the other day in which a worried gentleman from the USA insisted that the wolves who have been reintroduced to the United States are actually Canadian wolves. "These are not timber wolves like we had here years ago," the guy warned. "These are Canadian wolves that are three and four times as big." Ouch! That gets my attention. The wolves we used to have were about the size of a coyote or a collie. Four times that would be a wolf about the size of a pony. How would you like to bump into something in the forest that resembles a pony with fangs?/Bill Hall, Lewiston Tribune. More here.
Question: Do you think Canadian wolves are bigger, meaner than their American cousins?
---
---