Tue., May 6, 2014, 4:21 p.m.
Kenck Pooh-Poohs Fulcher Plea
Let me address Idaho Democrats and Independents who want better, balanced government: Your vote will make the most difference if you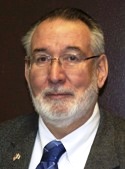 vote the Idaho Democratic Primary Election. Now, let's talk about why. It was amusing to see Sen. Russ Fulcher, Republican candidate for governor, ask Idaho Democrats to vote for him—genuinely amusing. It was a moment when bare political ambition outstripped common sense. Fulcher's attempt to entice Idaho Dems was based on the belief that we just want change. True, it would be a change to have Idaho Dems throw-in with folks who think Glenn Beck is prophetic or that a racist, scofflaw Nevada rancher is worthy of praise. But, no, Mr. Fulcher, we don't need that kind of "change"/Idaho Democratic Party. More here.
Question: Anyone out there voting in the Democratic primary?
---
---