Tue., May 6, 2014, 3:52 p.m.
'Outsider' Named Top Idaho Reporter
Kevin Richert, pictured, who for more than a decade was one of the best editorial writers in Idaho, has a new bragging right. He's also one of the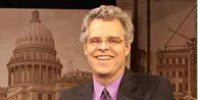 Gem State's reporters, earning the title of "Reporter of the Year" by the Idaho Press Club. The award was richly deserved – and made more impressive by the fact that he beat out two high quality reporters from the Idaho Statesman, Sven Berg and Katy Moeller. It's ironic that the top award goes to someone who does not work for the traditional print media. Idaho Education News is based online, but it's the best place to find out what's happening in education and Richert does a great job/Chuck Malloy, Ridenbaugh Press. More here.
DFO: Huckleberries Online is pleased to regularly run Kevin's reporting on his blog, The EDge, and site, IdahoED News. He and his organization are one of the refreshing developments in Idaho education reporting in the last few years. Please join me in offering a big-time SAAAA-lute to this year's best Idaho reporter.
---
---