WEDNESDAY, MAY 7, 2014, 2:50 P.M.
Coeur d'Alene Seeks Input On Vision
For the past year, a group of 30 community leaders and thousands of citizens have been working on a plan designed to lead the greater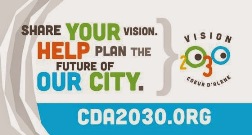 Coeur d'Alene area into a vibrant future. Now it's your turn to help put the visionary plan into action. The Project Management Team for the Coeur d'Alene 2030 Visioning Project (CDA 2030) has compiled 179 action statements based on a broad cross-section of community input. The next step is prioritizing the list. From May 9-23, Coeur d'Alene area citizens are being asked to comment on the action statements by participating in a survey, said CDA 2030 project manager Nicole Kahler/
Keith Erickson
, Coeur d'Alene Today.
More here.
Question: Did anyone participate in the last Vision Quest ... mebbe for 2020? If memory serves me correctly that vision exercise helped shape where we're at today in Coeur d'Alene, with all the capital improvement on the waterfront and beyond.
---
---