I admit it. I have taken my share of grief over the years for wearing a bow tie. My affection – or affliction – has prompted snickers, crude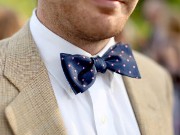 jokes and feeble attempts at one-liners. I've been asked, just for example: "Do you tie those yourself?" No, I want to say, my butler does it for me. "Can I touch it?" Seriously? If you look like Grace Kelly, I would say, knock yourself out. "Are they hard to tie?" Yes, very, I say. Rather like those sneakers you're wearing. Whenever I get that look, the, oh, he's wearing a bow tie look, I just remember what a very smart and sartorially advanced gentleman once told me: "It takes a confident man to wear a bow tie." It doesn't hurt that women seem to notice and frequently compliment a well-chosen bow tie/Marc Johnson, The Johnson Report. More here.
Question: Have you ever worn a bow tie?
---
---