WEDNESDAY, MAY 7, 2014, 10:14 A.M.
WSU Reacts To Sorority Public Pee
Washington State University says it will charge a sorority with disorderly conduct and alcohol violations for an incident Saturday in Coeur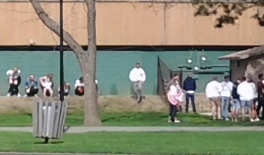 d'Alene involving students urinating in City Park in front of families. The WSU Chapter of the Kappa Kappa Gamma sorority will be charged with violations of the university's Standards of Conduct for Students as the result of an incident, which occurred during a sorority-sponsored event, WSU Dean of Students Melynda Huskey said this morning. The president of the Gamma Eta chapter has been notified that the chapter will face the disciplinary charges as the result of complaints the university received from a Coeur d' Alene resident who reported that intoxicated students were observed exiting from a chartered bus and urinating in public in the park/Scott Maben, SR. More here. (Photo: WSU frat rats and sorority sisters used back of North Idaho Museum as pee spot Saturday afternoon)
Archives:
Question: What would be an appropriate punishment for public WSU urinators?
---
---