Guv Debate To Have Cussing Delay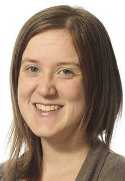 Perennial candidate Harley Brown's rough manner of speaking has prompted Idaho Public Television to use a 30-second delay in the live May 14 debate among four GOP candidates for governor. Moderator Melissa Davlin, pictured, said Thursday that the delay will be tested during Sunday's debate between 2nd District GOP Congressman Mike Simpson and Idaho Falls lawyer Bryan Smith to be sure producers can bleep any profanity. Davlin noted that the statewide network could be subject to fines by the Federal Communications Commission for airing profanity. "I've heard that he's been cussing (at campaign appearances)," Davlin said of Brown/Dan Popkey, Idaho Statesman. More here.
Question: It's a sorry day when a gubernatorial candidate can't control himself enough not to cuss when the cameras are rolling. Thoughts?
---
---