Fri., May 9, 2014, 8:37 a.m.
Adler: USA Wasn't Created Christian
Did the Founding Fathers seek to establish a Christian nation? "I think the answer is no," said David Adler, the director of the Andrus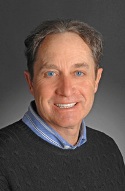 Center for Public Policy at Boise State University. Adler, pictured, spoke Thursday night in front of more than 180 people at the Coeur d'Alene library community room. "The Founding Fathers did not intend to create a Christian nation, and, in fact, in 1796 our Treaty with Tripoli states in very clear language, 'We are not a Christian nation,'" Adler said. "It doesn't mean that many of the founders did not have certain views or ideas about the nature of the union - or the nature of the universe, because they did." Adler is recognized as a non-partisan university professor who lectures throughout Idaho and the country on the U.S. Constitution and Supreme Court, and is the author of more than 100 scholarly articles, several books, and is a frequent commenter on state and national events/David Cole, Coeur d'Alene Press. More here. (Boise State University photo)
Question: Do you agree/disagree with constitutional scholar David Adler that it wasn't the founders' intention to create this country as a Christian nation?
---
---