Fri., May 9, 2014, 12:46 p.m.
Clerk: Gfeller Mailing Info Incorrect
Kootenai County Chief Deputy Clerk Pat Raffee announced that a mailer sent by the Idaho Prosperity Fund, featuring Idaho House District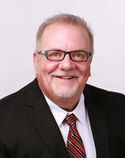 3B candidate Greg Gfeller, contains inaccurate information. "No ballot can remain secret sent via fax, and the Elections department will not accept ballots cast via fax," said Raffee. "Elections can accept faxed absentee ballot requests, which are very different documents than actual ballots," she continued. "The deadline for absentee ballot requests is 5PM Wednesday, May 14", Raffee noted, pointing out a different date stated in the mailer. Finally, Kootenai County pays return postage on absentee ballots, a fact also misstated in the mailer/Chief Deputy Clerk Pat Raffee, news release. (Photo: Ballotpedia)
Thoughts?
---
---