FRIDAY, MAY 9, 2014, 4:51 P.M.
Kimmel: What The Heck Is Gluten?
If your Whole Foods or Sprouts has a whole section devoted to products that have no gluten, it must be bad, right? If your friend says so,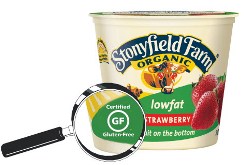 you'd better avoid gluten, right? In fact, talk show host Jimmy Kimmel says it seems to him that in Los Angeles, gluten is comparable to Satanism. But just what is gluten? Kimmel figured plenty of people wouldn't know -- even people who avoid it. And he was right. "I don't know if it's just here in L.A., but people are very anti-gluten. Which bothers me, because I'm very pro pizza. And you can't be pro-pizza and anti-gluten," Kimmel said Monday on his late-night show, "Jimmy Kimmel Live." Kimmel said he suspected some people don't eat gluten because "someone in their yoga class told them not to," so he sent someone to interview people who avoid gluten just what it was they were steering clear of/Mary MacVean, Daily Dish, Los Angeles Times. More here. (AP file photo: Most Stonyfield Farm products are now officially certified gluten-free)
Question: Are you gluten-free?
---
---