Fri., May 9, 2014, 3:16 p.m.
Is North Idaho GOP 'Dysfunctional'?
Republicans in North Idaho have been splintering into increasingly bitterly divided factions, and some say it's reached the point of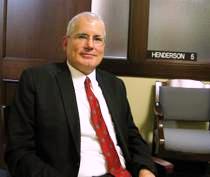 dysfunction – and the cracks have to close if the aim is to get anything done, like bring in more jobs or improve schools. "We need everybody to get together," said Patrick Whalen, who is running against state Sen. Bob Nonini, R-Coeur d'Alene, in the May 20 GOP primary. "I don't think we can continually split the party and succeed." Longtime local Republicans have felt pushed out as newcomers and former Libertarians and Constitution Party members and their allies increasingly dominate the local party. Competing Republican clubs, from the Reagan Republicans to the Rally Right/United Conservatives to the Pachyderms, have differed over who's the true conservative and squabbled over control/Betsy Russell, SR. More here. (SR photo by Betsy Russell: Senate District 3 candidate Pat Whalen)
Question: Some say Republicans in North Idaho have reached the point of "dysfunction"? Izzit just me -- or did the regional party pass dysfunctionalism two years ago and are now headed for some sort of full-blown psychosis?
---
---