Fri., May 9, 2014, 8:52 a.m.
Rand Paul To Speak At GOPfest
Idaho Republican Party Chairman Barry Peterson's wish came true and Sen. Rand Paul — the current leader in GOP presidential polls —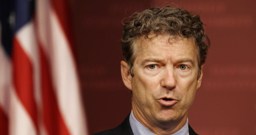 will address the Idaho GOP State Convention at the University of Idaho's 17,000-person-capacity Kibbie Dome. Paul, pictured, will keynote the convention banquet June 13. "I am thrilled to be joining the Idaho Republican Party this June," Paul said in a news release from the Idaho GOP. "It is vital that we take our message of limited government and personal freedom to every corner of the United States. Idaho has a proud tradition of supporting conservative values, and I look forward to meeting everyone in Idaho." Tickets are $50 and may be purchased on the Idaho GOP website, according to the release/Dan Popkey, Idaho Statesman. More here. (AP file photo)
Question: So Idaho Republicans are still under the spell of a Pied Pauler?
---
---