Fri., May 9, 2014, 4:37 p.m.
Top Post: Raul Backs Benghazi Panel
Top Post of Day ...
In a news release sent to Huckleberries, Congressman Raul Labrador writes: "This week, I joined a majority of my House colleagues in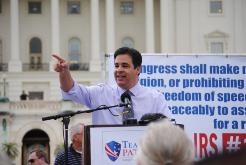 voting to create a select committee to investigate the Benghazi terrorist attack of September 11, 2012. As you'll recall, it was on that day that U.S. Ambassador to Libya Christopher Stevens and three other Americans were killed in a terrorist assault on the U.S. diplomatic mission in Benghazi, Libya. However, within hours of the attack – and continuing through today – the Obama administration has stonewalled Congress and misled the American people about what happened in Benghazi and why it occurred. Through a select committee, we will hold the administration accountable and spur greater action to bring the perpetrators of the attack to justice." More here. (Photo: Congressman Raul Labrador's Web site)
Question: Will a select committee on the Benghazi terrorism attack help put this controversy to rest?
---
---