Mon., May 12, 2014, 2:58 p.m.
Asphalt Plant Plan Vexes Trail Friends
Rick Shaffer, of Friends of the Trail of the Coeur d'Alene's has issued this Facebook SOS: "The Shoshone County Planning and Zoning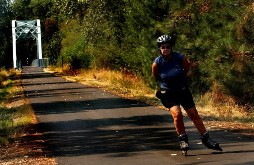 Commission has received an application for the installation and operation of an asphalt plant at mile marker 48 near Enaville, one of the most scenic and heavily traveled stretches on our Trail. There have been two similar applications – one that was denied and one that was withdrawn. WE NEED YOUR HELP as another such application has resurfaced. The Trail of the Coeur d'Alenes is one of the premier trails in the nation. It was named to the National Hall of Fame Trails in 2012 by the Rails-to-Trails Conservancy. ... The proposed asphalt plant would produce heat, fumes, increased noise, traffic, and potential contamination of the South Fork of the Coeur d'Alene River, together with degradation of the natural environment and visual blight. (2006 SR file photo: Nancy Sim, of Toronto, Canada skates The Trail of the Coeur d'Alenes in Enaville on Wednesday)
Thoughts?
---
---