Mon., May 12, 2014, 1:04 p.m.
Stevens: Get Mad, Then Get Even
Alaska's long-time senior senator, the late Ted Stevens (1968-2008), had a vicious temper. He could erupt in a split second. Turnover on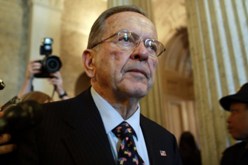 his staff was constant for few folks would take his berating their competence for long. He was demanding, would not accept excuses and expected one never to make the same mistake twice. His caustic criticism often was aimed at the press. He rarely hesitated to call a reporter and let them know how badly they'd screwed up. Behind all the anger, bluff and bluster, though, there was one decent person who had a tender heart, truly cared for those less fortunate and was devoted to his wife, Ann, and their children. He was a man of his word, a tireless advocate for Alaskans and a formidable adversary. He rarely carried a grudge, with one major exception-----his senatorial colleage, Alaska's junior senator, Mike Gravel/Chris Carlson, Carlson Chronicles. More here. (2008 AP file photo of the late Ted Stevens)
Thoughts?
---
---