Tue., May 13, 2014, 5:08 p.m.
New PAC Targets Otter, Wasden
A new group calling itself the "Integrity in Government PAC" has raised more than $100,000 in the past week for campaign attacks on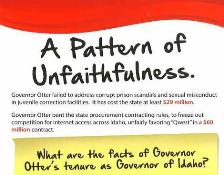 GOP Idaho Gov. Butch Otter and GOP Attorney General Lawrence Wasden – even though it has ties to two county GOP central committees. The group sent out mailings sharply critical of both Otter and Wasden to every registered Republican in the state, and has a website up criticizing Otter and calling for his defeat; both he and Wasden face challenges in Idaho's GOP primary on Tuesday. Lee Ann Callear, the PAC's chair, is an Idaho Republican Party executive committee member and Region 2 chair; she formed the PAC with three other central Idaho residents and Doyle Beck of Idaho Falls, who is the Bonneville County Republican Party chairman. "We've never done this before," said Callear, of Ahsahka/Betsy Russell, SR. More here.
Thoughts?
---
---