Wed., May 14, 2014, 1:11 p.m.
Buttercream Sculptor Earns Renown
Rebecca Wortman switched from lard to buttercream after the conquistador. She liked the consistency better. The ingredients of the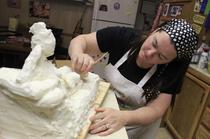 classic American-style frosting are sweet and simple: butter and powdered sugar whipped with milk and vanilla extract. Wortman's buttercream creations, however, are anything but basic. The up-and-coming buttercream sculptor creates edible works of art from the creamy combination known for holding its shape as well as being easy to mold. She uses the mixture as a kind of malleable marble, fashioning intricate freestanding figurines and cake toppers. While she's working to build a specialty cake-decorating business in her rural community of Clayton,, Washington, confectioners around the country are beginning to notice her work/Adriana Janovich, SR. More here. (SR photo: Rebecca Wortman demonstrates her buttercream sculpting skills)
Question: What kind of frosting is your favorite?
---
---