Wed., May 14, 2014, 8:20 a.m.
Sandusky Victim Number One
They called him Victim 1. But many in his community knew exactly who Aaron Fisher was and what he was saying long before he let the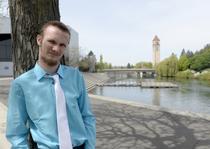 world know that he was the first of Jerry Sandusky's victims to come forward. As Fisher waited years for an arrest, he felt acutely that it was him, and not the popular Penn State assistant coach, who had earned the community's deepest disapproval. "Because of who he was and what he created and what he did in his lifetime, pretty much Sandusky was a god on earth for people," said Fisher. To this day, despite Sandusky's convictions on 45 counts of child molestation and despite the appalling inaction and cover-up at Penn State, there are some who look for the villain and see Fisher/Shawn Vestal, SR. More here. (SR photo: Jesse Tinsley)
Thoughts?
---
---