Wed., May 14, 2014, 1:35 p.m.
Upbeat Breakfast Honors Templin
A Facebook Friend emails: Something that neither paper covered yesterday was the CDA Chamber Upbeat Breakfast where Bob Templin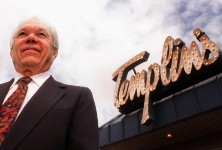 was honored for his commitment to tourism. It was a nice tribute, and Bob shared how the chamber plus his North Shore helped put CDA on the map as far as conventions. He also showed a fun promotional video of the area from the mid-60s showing how great the town and the North Shore was. There was an odd moment where Jerry Jaeger came up and said some very nice words about Bob and his impact, too. Jerry said he recently went to Bob's 91st birthday party so maybe they've started patching things up and are truly letting bygones be bygones. (1996 SR file photo of Bob Templin)
Question: Am I the only one who remembers dining at Templin's Cloud 9 in the old North Shore?
---
---