Wed., May 14, 2014, 5:03 p.m.
WSU Sorority Apologizes To CdA
The president of a Washington State University sorority has apologized for the behavior of students who urinated in the open in a Coeur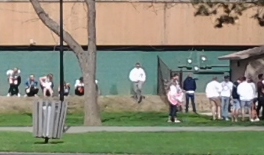 d'Alene park during a sorority-sponsored outing May 3. Megan Taylor, president of Kappa Kappa Gamma, also said members of the sorority would spend one day next fall doing community service for the city. According to a city news release today, Taylor said sorority members deeply regret the incident. "We just feel awful and really want to give back to the community to express how much we regret our actions," she said. Mayor Steve Widmyer said he accepted the apology on behalf of the city. "Megan contacted me and sincerely apologized for the actions of some members of her sorority group during their recent visit to Coeur d'Alene," Widmyer said in a statement. "In addition, she offered for her sorority to come to Coeur d'Alene to perform a community project"/Scott Maben, SR. More here. (Photo: Kappa Kappa Gamma sorority members pee at back of North Idaho Museum wall)
Question: This response seems reasonable to me. How about you?
---
---