Thu., May 15, 2014, 1:08 p.m.
Oregonian: Brown Steals Guv Show
If you want a little theatricality in your political debates, you could do worse than invite Harley Brown, pictured, a perennial candidate for Idaho office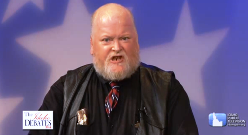 given to "Harleyisms" that test the boundaries of good taste, not to mention bigotry. Brown got a bit of national fame Wednesday night when he appeared with the other three Republican candidates for governor in his signature regalia. Oregon Gov. John Kitzhaber may have his cowboy boots and big belt buckle, but Brown came on stage clad in leather, including fingerless gloves. He was missing a key front tooth and had a pair of cigars poking out of his shirt pocket/Jeff Mapes, Oregonian. More here.
Question: Has Harley Brown become the face of Idaho?
---
---