Thu., May 15, 2014, 8:38 a.m.
Trib: Denney Ignores Constitution
Led by former House Speaker Lawerence (Boss) Denney, pictured, a contingent of Republican insurgents aim to violate the Idaho Constitution. Not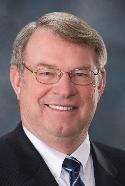 go through the process of amending the Idaho Constitution. Just break it. Denney, who wants to be Idaho's next secretary of state, is joined by a slate of candidates for state offices - such as governor, attorney general, controller and superintendent of public instruction - who want to secure a majority of seats on the five-member land board. That board is charged with managing Idaho's 2.5 million acres of endowment lands and its $1.7 billion permanent endowment fund. Profits go to schools, colleges and universities and other state agencies. Denney and company don't like the job it's been doing lately/Marty Trillhaase, Lewiston Tribune. More here.
Question: Do you think Lawerence Denney & allied candidates, if elected, can be trusted to control the state Land Board?
---
---