Fri., May 16, 2014, 8:52 a.m.
'Breaking Bad' Star For Idaho Guv?
Otter's insistence that perennial fringe candidates Harley Brown and Walt Bayes be invited also was noted on the TODAY Show Friday,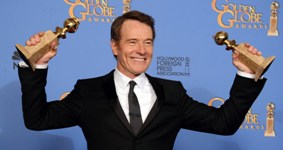 which drew "Breaking Bad" star Bryan Cranston, pictured, into the fun with a suggestion that he'd be a great fit for Idaho politics. Co-host Al Roker introduced the segment saying, "So, political debates can be pretty dry, unless it's a political debate involving the Republican candidates for governor in Idaho. Earlier this week, things got a little out of hand when two fringe contenders from ZZ Top stole the show." Roker's reference was to the beards worn by Bayes and Brown. TODAY used Brown's "It sucks," and "turd in the punchbowl" clips and the Bayes claim that "half of the Republican Party is Democrats and half of the Democratic Party is communists"/Dan Popkey, Idaho Statesman. More here. (AP file photo)
Question: Would you want Bryan Cranston as Idaho governor?
---
---