Fri., May 16, 2014, 9:09 a.m.
IFF: Guv Debate Was A Freak Show
Nothing has illustrated better the differences between GOP Congressman Mike Simpson and his challenger, Bryan Smith, than their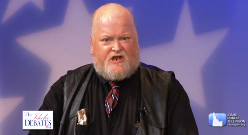 debates. Both candidate forums were lively, feisty, but most importantly, informative. Anyone could see where the two candidates stand and what their differences are. And those differences were on parade without the usual campaign bling that colors and distorts everything. No flashy fliers. No slick TV ads. Just two men and two visions for governing. This, of course, brings me to the gubernatorial debate. Idahoans would have benefited from an hour-long exchange of ideas between Republican Gov. Butch Otter and primary challenger Russ Fulcher. Instead, Idaho public television viewers were treated to a freak show featuring two additional candidates who really aren't even running serious campaigns. But Otter insisted on having them, and Idaho Public Television acquiesced to the governor's wishes. As a result, most viewers learned next to nothing about where the two serious candidates stand. And national news organizations were given a chance to mock us/Wayne Hoffman, Idaho Freedom Foundation. More here. (Idaho Public TV photo of candidate Harley Brown)
Question: Do you agree/disagree with Hoffman?
---
---