Fri., May 16, 2014, 8:42 a.m.
CdA Resort Bar Dodges Stiffer Penalty
The Coeur d'Alene Resort will dodge a costly penalty after one of its bars was hit with a second state liquor law violation in just over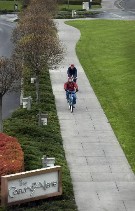 a year. Splash, a resort sports bar at Sherman Avenue and Second Street, was cited by the Idaho State Police for serving a minor in early May. A similar violation there in April 2013 resulted in a five-day suspension of the resort's liquor license, and because the license covers multiple venues, the resort closed several of its restaurants and lounges during that suspension in early January. A second offense within three years could lead to a license suspension of 15 to 30 days. But the resort recently made a change to its alcohol license structure that protects it from a penalty that severe/Scott Maben, SR. More here. (SR file photo)
Thoughts?
---
---