Fri., May 16, 2014, 8:19 a.m.
Stay Halts Idaho Gay Weddings Today
Idaho residents planning to gather at courthouses across the state to celebrate same-sex marriages saw their plans put on hold Thursday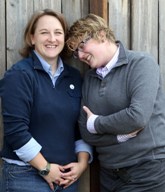 by a federal appeals court. Idaho's gay marriage ban was overturned Tuesday when U.S. Magistrate Judge Candy Dale ruled it unconstitutional. Dale said Idaho must begin issuing marriage licenses to same-sex couples starting this morning, but a three-judge panel of the 9th Circuit U.S. Court of Appeals on Thursday issued a temporary stay to prevent same-sex marriages while the court determines if a longer delay is needed. Of the four lesbian couples who successfully sued to overturn Idaho's ban on same-sex marriage, two had hoped to get marriage licenses first thing this morning; the other two were looking forward to having their legal marriages from other states recognized in Idaho/Betsy Russell, Eye on Boise. More here. (AP file photo: Amber Beierle, left, and Rachael Robertson of Boise are one of four same-sex couples who challenged Idaho laws banning same-sex marriage)
Question: How do you think this situation will play out?
---
---