Mon., May 19, 2014, 5:06 p.m.
Hearn: Stress Worth Honor Of Serving
On his Facebook wall, Chairman Tom Hearn of the Coeur d'Alene School Board speaks of lessons learned during his first year in office: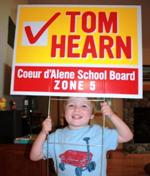 "Some personal things I have learned this past year includes being careful about emails and that written comments can easily be taken out of context and made to look bad by people who have that agenda in mind. I have also learned that I don't have as much of a private life as I used to and that things that I say or even post on Facebook can easily end up becoming "news" whether I like it or not. But it is small price to pay for the tremendous honor of serving in public office and working every day to help our children get the education they deserve.' You can read his full post here.
Question: I wonder why anyone in his/her right mind would want to serve in elective office, given the poisonous atmosphere of local politics. Would you?
---
---