Tue., May 20, 2014, 10:42 p.m.
Election Night Huckleberries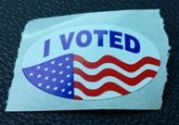 I'm back at Hucks Central & rarin' to go until the last vote is counted. Let's use this thread for generic comments. The county clerk's office issued a news release earlier this week, saying that it expected the absentee ballots to be counted by 9 p.m. That's 15 minutes. So we may have an inkling re: which way the voting is going to go as soon as then.
---
---