Tue., May 20, 2014, 8:54 a.m.
OTV Review — Golden Corral
When rumors started fluttering around that Coeur d'Alene was next in line on Golden Corral's short list of places to build a restaurant, an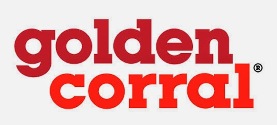 oddly numerous amount of local folks started freaking out with excitement. Granted, our town hasn't had a corporate buffet style eatery since...um, I can't even remember. I think the last local entry into the World of Many Sneezeguards was Granny's up in the dog end of the Silver Lake Mall, which mercifully died at least a decade ago. So, it's been awhile since Coeur d'Aleneians have been able to give up on life via sweatpants and five hours taking gluttonous trips to the trough of bland, sub-cafeteria style foodstuffs. If you're one of these buffet queens yourself, I'm sure you're glowing bright with joy that the Cd'A Golden Corral has finally hung their "line starts here" sign and have flung open their doors for business. I'd been to the North Spokane Corral several years ago and I'd be lying if I said I walked out of there in fits of culinary bliss/OrangeTV, Get Out! North Idaho. More here.
Question: Do you enjoy all-you-can-eat buffets?
---
---