Tue., May 20, 2014, 8:26 a.m.
Police Target Uncovered Dump Loads
Kootenai County sheriff's deputies drew some blank stares during their emphasis patrols on uncovered loads May 17 and 18. Twenty-three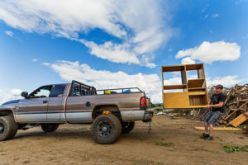 stops were made near the county's transfer station on Prairie Avenue and rural collection sites during the emphasis, targeting residents who didn't have their loads covered on material that could have blown out of their vehicles. Lt. Stu Miller of the Kootenai County Sheriff's Office said many residents are unaware of the law requiring loads to be covered on anything that can blow out of the vehicle. He said strapping down the material isn't good enough. "About this time every year is when we see a lot of problems since it's spring cleaning time," said Miller, adding that the county has received several complaints about the debris from homeowners who live near the transfer stations/Brian Walker, Coeur d'Alene Press. More here.
Question: Do you always cover your loads when you run to the dump?
---
---