Tue., May 20, 2014, 8:37 a.m.
Report: Possible CdA Child Enticement
SUSPECT VEHICLE DESCRIPTION: 1989 GMC SAVANA VAN, WHITE, IDAHO PLATE K527792 SUSPECT DESCRIPTION: WHITE MALE, LONG BROWN "WAVEY" HAIR, APPROXIMATELY 5'06",APPROXIMATELY 110 POUNDS, APPROXIMATELY 40 YOA, WEARING A BLUE BASE BALL CAP,WHITE TEE SHIRT, AND GRAY JEANS
At 6 p.m. Saturday, Coeur d'Alene officers responded to a call re: suspected child enticing. The reporting party explained a male has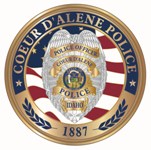 been hanging around the area of her residence and she thinks he may be enticing her son. She lives in the 1900 block of W. Fairway Drive. The witness said she recently noticed a white van parked in the vicinity of her home. The suspicious male drives the white van. She does not know who the male is and has not seen him in the area before. She said on May 12th at approximately noon she observed the male walking on her property. Her three year old son was playing outside at the time. The witness said the male asked her son to come to his van and help him with his dog. She noticed him engaged in conversation with her son and confronted him. Complete Facebook report here.
Thoughts?
---
---