Tue., May 20, 2014, 5:01 p.m.
Woody Bringing Street Music To CdA
In his column this morning, Doug Clark of The Spokesman-Review writes: "I'm excited to announce that our neighbors to the east are planning to hold the first Coeur d'Alene Street Music Week during the noon hours of June 9-13. It's all due to the tireless efforts of Jim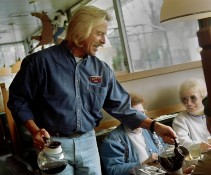 Lyons, my street music amigo, who got Coeur d'Alene City Councilman Woody McEvers on board. "The staff thought it was a valid thing to do," said McEvers. "I'm looking forward to it." While talking to McEvers on Monday, a vivid memory came to mind of something that happened one night during the early 1980s at the Rustler's Roost. That's the restaurant McEvers and his brother, Daren, own. Originally in Coeur d'Alene, the Roost is now a fixture in Hayden. Back in the day, however, I was running The Spokesman-Review's Coeur d'Alene bureau. And working for me was this just-out-of-college intern, a huge rubber-lipped lad who had the appetite of a pack of starving jackals. I told him I'd buy his dinner and took him to Rustler's Roost for "All You Can Eat Ribs Night." More here. (SR file photo: Woody McEvers at the old Rustler's Roost downtown)
Question: What do you think of the concept of a Coeur d'Alene Street Music Week?
---
---