WEDNESDAY, MAY 21, 2014, 5:02 P.M.
Bay Views: Stunned
Having met and worked with some fine people in NIPAC, I am more upset about their repudiation than my own loss. I lost with a 40 %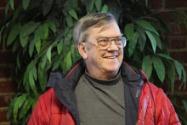 margin to a little known person that apparently fit the mold for the new age in Kootenai County Politics. The moral here is, if you have momentum on your side, and you work harder and spend more than your opposition, you are likely to win. It will be an interesting few years ahead. but sometimes the pendulum swings abruptly as it has this year. We could see coming from this, a rejuvenated Democratic Party. But not just yet. If the Rally Right people don't govern well, it will open the door for liberal causes to fill the vacuum/Herb Huseland, Bay Views. More here.
Question: So what do you make of Herb's point, that a rival political movement could emerge (as it did in the Coeur d'Alene School Board and trustee elections last year) if elected Tea Party officials say and do outrageous things in the next two years?
---
---