Thu., May 22, 2014, 8:48 a.m.
Carlson: Butch Won But He Didn't
Make no mistake about it, while Otter won on Tuesday, he was still the biggest loser. While voter turnout was abysmally low, something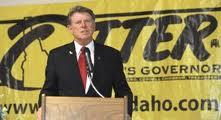 the Tea Party purists wanted (Only the pure of heart and only 100% God-fearing, gun-toting, government-hating, education-bashing, ObamaCare haters) were meant to vote in the GOP's closed primary. They got their wish, so to speak, by holding the primary vote totals statewide to between 20% and 25% of eligible voters. This enabled their favored candidates, especially gubernatorial challenger State Senator Russ Fulcher of Meridian, to mount a more effective challenge because the universe of votes needed to win was suddenly much, much smaller/Chris Carlson, Carlson Chronicles. More here. (SR file photo)
DFO: Must read.
Question: Is Gov. Butch Otter vulnerable to a challenge from Democrat A.J. Balukoff this fall?
---
---