Thu., May 22, 2014, 8:28 a.m.
Cheatham: Being New Here Helped
Don Cheatham believes his lack of political experience and being relatively new here actually helped him earn the Republican nomination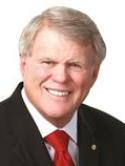 for Frank Henderson's seat at the Legislature. "I think door-knocking was the biggest factor, and being a newcomer appealed to residents," said Cheatham, who defeated Jeff Ward and Greg Gfeller in the run for 3rd Legislative District House Seat B during Tuesday's primary. "I believe being a first-time candidate helped me. I never got questioned about being new here." Cheatham, a former Los Angeles police officer and recently retired from the U.S. Department of Homeland Security, moved to Post Falls two years ago/Brian Walker, Coeur d'Alene Press. More here. (Photo: Donald Cheatham campaign site)
Question: How much did Cheatham benefit from being involved in a three-way race?
---
---