Thu., May 22, 2014, 8:35 a.m.
Pischner Congratulates Brannon
Kootenai County Clerk Jim Brannon won a decisive victory Tuesday night, capturing nearly 65 percent of the vote, according to final totals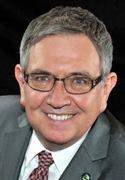 released by his office. Brannon received 7,304 votes, and Republican primary opponent Don Pischner got 3,976 votes. "Clearly, there are two factions in the Republican Party," Pischner said Wednesday. "One faction was able to get out the vote and one was not." Pischner thanked his supporters. "I'm proud for that support I got," Pischner said. "I congratulate Jim Brannon." Brannon didn't return calls seeking comment. Democratic county clerk candidate Larry Belmont said getting the vote out will make the difference in the Nov. 4 general election. "Too many people stayed home (Tuesday)," said Belmont, who easily won his primary race Tuesday. "When just a few people set a sense of direction for a community you put too much power in the hands of too few people"/David Cole, Coeur d'Alene Press. More here.
Question: Does the big primary win by County Clerk Jim Brannon finally put a fork in his City Council election loss to Mike Kennedy and subsequent legal action?
---
---