Thu., May 22, 2014, 9:28 a.m.
Souza Win? It's All In The Numbers
Jessica Robinson, the Inland Northwest correspondent for National Public Radio, interviewed me for a post-election wrap-up Wednesday. She wondered why numbers in Kootenai County favored the Tea Party wing of the local GOP. I told her there were a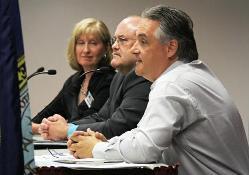 number of reasons but the overwhelming one was the poor turnout, which can be tied directly to the closed primary. The race I used as an example -- thanks to Merica for pointing this out -- was Mary Souza's upset victory over veteran state Sen. John Goedde, R-Coeur d'Alene, in their GOPrimary race. The number that shouts loudest from that race is 4,967. That's how many fewer voters cast ballots in the Senate District 4 race than did in the Coeur d'Alene mayor's race (featuring Souza and winner Steve Widmyer) only 6 months ago. The Senate District boundaries and the city of Coeur d'Alene are nearly the same. Mary attracted 3,556 votes (42.30) in losing the mayor's race. Only 3,440 votes total were cast in her SD4 primary win, which she won with 1,853 votes. So why did 5,000 fewer voters go to the polls Tuesday? The GOP Tea Party wing intentionally depressed the vote by forcing closed primaries on us. Smaller poll of voters, more clout for a dedicated minority. I would be very surprised if Souza could beat Goedde in general election involving the city of Coeur d'Alene. But that doesn't matter now. Souza, to her credit, has finally won office. There is not Democratic challenger. It'll be interesting watching her legislate/DFO. (SR photo, left to right: Mary Souza, Joe Kunka and Steve Widmyer at mayor's debate last fall)
Question: Did Mary Souza's unsuccessful run for mayor 6 months ago help her in her successful GOPrimary campaign against Sen. Goedde?
---
---