Thu., May 22, 2014, 2:16 p.m.
On The Waterfront — 5.22.14
I encountered Walkabout during my regular noon walk/litter pickup along the Coeur d'Alene waterfront today. We walked together for about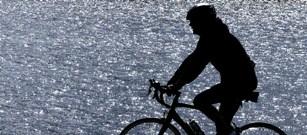 a quarter of a mile, discussing the type of people today who simply don't know it's wrong to litter, legally and ethically. She told me Stickman is busy cleaning out his inventory of sticks, rocks and other giveaway items that have been central to his labor of love for all these years. My daily litter haul today included 20 cards of a deck advertising The Kraken Black Spiced Room that were scattered in front of the SR building north to North Idaho Title building. Also picked up a crumpled-up note on yellow lined paper at Garden & Northwest Boulevard that read: "If you don't live here please do not park here. This is a residential parking space we pay ! And you will get towed. Thank you!" I supposed the crumpled nature of the note was the violator's answer to the request. BTW, I also found a freshly dead squirrel by the n/b CityLink bus stop along NW Blvd, west of the courtroom annex.
---
---