Fri., May 23, 2014, 10:15 a.m.
Wanted: Community Based Party
Rep. John Rusche, Idaho House Democratic Minority Leader: As long as 12-15% can dictate a party candidate (50% of the 25%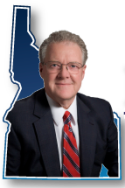 turnout) can decide the outcome, dedicated and organized minority can succeed. As long as the national democratic brand is so unpopular in idaho it will be hard to get "Idaho Democrats" identified as a good choice. Unless there is a similar organization and dedication by "moderates" in the GOP, there is no path forward for them with a closed primary. It seems to me that moderates--democrats, republicans, independents--have more in common here in idaho. Successful response to the educational, economic and community issues facing idaho families and businesses almost requires finding a way around the closed primary. I expect to either see an initiative to change it or the development of a more community centered, progressive concensus party.
DFO: Minority Leader John Rusche is correct. Unless the Coeur d'Alene area finds a way around the closed GOP primary, it will continue to deal with legislative leadership that doesn't reflect the community. Balance North Idaho was instrumental in soundly defeating Tea Party candidates in the Coeur d'Alene School Board and City Council elections. Reasonable Republicans, Democrats and the majority of voters who are Unaffiliated have more in common with one another than the radicals in the Tea Party.
Question: Is it time to form a standing, unaffiliated political group in Coeur d'Alene that puts community before ideology?
---
---