Tue., May 27, 2014, 8:49 a.m.
Grand Coulee Dam Memorial Found
GRAND COULEE – By most accounts, the last life claimed by the Grand Coulee Dam was that of Howard Gumm. The day he died, July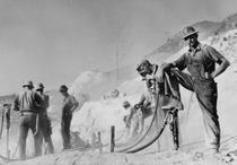 27, 1984, the Teamster was hauling dirt along Lake Roosevelt in an effort to stabilize shores near the dam when the slope Gumm was working on gave out. He, along with his massive truck and 1.3 million cubic yards of dirt, sloughed into the lake. At his memorial, his son Randy said, his father's Thermos, hardhat and lunchbox stood in proxy of the body. Those possessions had floated to the surface of the lake following the disaster, but his body has never been found. Before Gumm, there had been 81 men killed while working on one of the most massive public works projects this nation has ever seen, which began in New Deal earnest in 1933. Heralded as the Eighth Wonder of the World, the dam turned 670,000 acres of desert shrub-steppe into fertile farmland and provided the electricity that turned the state of Washington into a vital industrial center during World War II/Daniel Person, special to the SR. More here. (Photo: Grand Coulee Dam archives)
Question: Are you related to someone who worked on the Grand Coulee Dam?
---
---