Tue., May 27, 2014, 8:34 a.m.
Hoffman: I Don't Hate Goedde
Sen. John Goedde says in the Coeur d'Alene Press that I "absolutely hate" him, blaming some perceived discord between us as the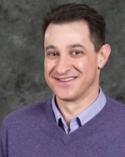 reason for performing badly three years running in the Idaho Freedom Foundation's Freedom Index. I don't hate anyone, Sen. Goedde included. We have disagreed on issues — his support for corporate welfare programs and the state insurance exchange come to mind — and we have agreed on issues, such as the decision to oppose the 2013 education budget and the need to reform labor union laws. The Freedom Index itself is all about numbers, not personalities. It looks at growth of government bill by bill during the course of an entire legislative session, and then accounts for that growth numerically. A legislator's support for new government programs, boards, wealth redistribution, fee increases and regulations can then be visualized in our Index. Positive numbers show legislators who tend to vote against bigger government, at least in floor votes. Negative numbers, like Goedde's, show a voting disposition toward bigger government/Wayne Hoffman, Idaho Freedom Foundation, letter to the editor, Coeur d'Alene Press. More here.
Question: Do you look to IFF's Freedom Index as a voting guide?
---
---