Tue., May 27, 2014, 3:12 p.m.
Idaho Solar Road Easily Raises Funds
When celebrities as politically dissimilar as Sean Hannity and George Takei show interest in your invention, you know you're on to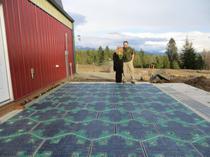 something. Plugs from the conservative Fox News commentator and the liberal "Star Trek" actor, plus a flood of media attention, have lit up the online crowd-sourcing campaign of a North Idaho couple developing reinforced solar panels for road, sidewalk and parking lot surfaces. Scott and Julie Brusaw, owners of Solar Roadways in Sagle, have breezed past the $1 million fundraising mark needed to move their product closer to manufacturing/Scott Maben, SR. More here.
Thoughts?
---
---