Tue., May 27, 2014, 11:04 a.m.
Marine Deputy Tries To Stop Tragedy
Bob Bjelland is big on boater education. He spent 34 years serving in the Navy before he retired and went to work as a Kootenai County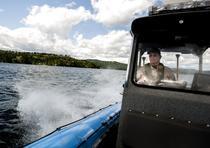 sheriff's deputy. It isn't memories of war zones that keep him awake at night. It's the memories of children pulled from local lakes and rivers after a boating accident. "As a dive rescue team member, I'm tired of pulling kids off the bottom," he said. So he teaches a session on boater safety on the third Saturday of every month. It's not required in Idaho, but Bjelland urges people to take it anyway. In Washington, anyone operating boats with more than 15 horsepower must take a boater education safety course. Bjelland is one of eight deputies who patrol Kootenai County's 18 lakes and 56 miles of river looking for safety violations, assisting boaters and making arrests. "We've got some turf to cover," he said/Nina Culver, SR. More here. (SR photo by Tyler Tjomsland: Kootenai County sheriff's Deputy Bob Bjelland patrols Lake Coeur d'Alene on Monday. He teaches monthly sessions on boater safety)
Question: What is the dumbest thing that you've seen on Kootenai County waters?
---
---