Tue., May 27, 2014, 5:20 p.m.
Vet: Complacency Becoming Problem
Despite how well Kootenai County honors its veterans, Lew Allert still sees complacency eroding the foundations of our country. Allert, a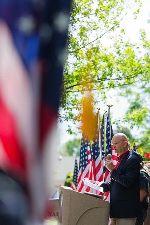 Vietnam veteran who was named Veteran of the Year by American Legion Post 143, was the feature speaker during Monday's Memorial Day ceremony at Evergreen Cemetery in Post Falls. "This is a wonderful place to live for our veterans," Allert told the crowd of about 250. "But I fear that we are becoming complacent, and complacency comes from within." Allert said the local voter turnout of only 22 percent for last Tuesday's primary election, challenges to Second Amendment rights and the Veterans Administration administrative crisis are disturbing. He called on people to act and speak out. "Our Constitution and the Bill of Rights are being pushed into the trash can of history," Allert said/Brian Walker, Coeur d'Alene Press. More here. (Coeur d'Alene Press photo by Shawn Gust: Post Falls Mayor Ron Jacobson addresses large, Memorial Day crowd)
Question: Do you think America has become complacent?
---
---