Wed., May 28, 2014, 11:28 a.m.
Bodman ID'd As Deputy In Accident
The Spokane Valley sheriff's deputy involved in a collision with a bicyclist Friday night is Joseph Bodman. His name was released as an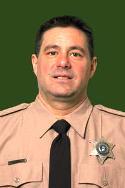 investigation into the incident continues. The 15-year-old boy, Ryan Holyk, remains hospitalized in critical condition. Bodman has 25 years of law enforcement experience, including the past 12 years with Spokane County. The collision happened at 10:30 p.m. at East Sprague Avenue and Vista Road. Bodman was responding to back up another deputy who had stopped a suspect with a domestic violence warrant when the accident happened, according to a news release from the Spokane Investigative Regional Response Team, which is investigating. He was not using his flashing lights, witnesses have said/SR. More here.
Also: Joe Bodman, 54, served on the Post Falls City Council from 1998 to 2010 and ran unsuccessfully for Kootenai County sheriff in 2012 and for a return to the Post Falls council in 2013.
Thoughts?
---
---