WEDNESDAY, MAY 28, 2014, 3:50 P.M.
Peterson Loses Grip On County GOP
Embattled Idaho Republican Chairman Barry Peterson's nemesis — Mountain Home City Councilman Geoff Schroeder — was elected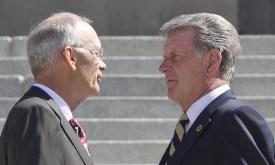 Elmore County GOP vice chairman Tuesday. And the new county chair is Megan Blanksma of Hammett, who ousted former Chairman Jace Prow, Peterson's friend and business partner. "I think Barry's days are numbered," Schroeder said Wednesday. "Many people are tired of his method of doing business and his handling of the party over the last two years." Peterson blamed Blanksma's and Schroeder's victories — two in a series of 10-8 votes Tuesday night — on supporters of Gov. Butch Otter who aim to replace Peterson as party chairman at next month's state convention in Moscow/Dan Popkey, Idaho Statesman. More here. (AP file photo: Idaho GOP chairman Barry Peterson and Gov. Butch Otter have kiss & make-up session after GOPrimary last week)
Question: Do you think Barry Peterson's days are numbered as state GOP chairman?
---
---