Wed., May 28, 2014, 8:57 a.m.
Takei ♥'s Solar Roadway Invention
When the helmsman of the USS Enterprise likes your invention, you know you're on the road to success. George Takei, who portrayed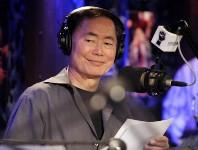 Sulu on "Star Trek" and has more than 8 million followers on social media, plugged a North Idaho couple's idea for transforming roads, sidewalks and parking lots into solar surfaces. The next day, Scott and Julie Brusaw saw their crowdfunding campaign pass the $1 million goal. Takei learned about Solar Roadways of Sagle, Idaho, and tweeted Saturday: "I like the sound of that. Worth a look. Dare to dream, I say." The Brusaws launched their Indiegogo online campaign April 21 to move their product toward manufacturing. They've received a flood of attention from news media, technology blogs and social media in the weeks since, and on Tuesday had raised more than $1.4 million from more than 33,000 contributors. That includes 73 who gave $1,000 each and seven who gave $10,000 each/Scott Maben, SR. More here.
Thoughts?
---
---